The Hi-Tech school programme is a major highlight of the Public Education Rejuvenation Mission of the State Govt, aimed at upgrading all classrooms to international standards. KITE was identified as the implementing agency for the programme, being the pioneer of ICT enabled education in the State for over a decade. KITE has implemented the Hi-Tech school programme by which 45000 classrooms in 4752 schools have been made Hi-Tech and the project was funded by KIIFB, (Kerala Infrastructure Investment Fund Board), the nodal agency for monitoring all Govt projects, in tune of Rs. 493.50 Crores. The 4752 schools include Govt & Aided High Schools, Higher Secondary schools and Vocational Higher Secondary schools.
Each Hi-Tech classroom is equipped with Laptop, ceiling mounted Multimedia Projector, HDMI Cables and Faceplates, Whiteboard / Projection Screen, USB Speakers, High Speed Broadband internet and access to Samagra Resrouce Portal. The Hi-Tech IT Labs feature Laptops ,Sound system and Multifunction Printers. In addition to that, each of the 4752 schools are provided with a 42 inch LED TV, Full HD webcam and a DSLR Camera. The IT Labs and Classrooms would be connected via network through a Central server in the Lab, which would allow sharing of information.
Components
Pilot implementation of Hi-Tech school project
KITE successfully undertook a pilot implementation of Hi-Tech School Programme in 139 selected schools in 4 constituencies – Alappuzha, Puthukkad, Kozhikode North and Thaliparamba and also including the 7 Smart Schools during 2016-2017. Click here for the details the ICT equipments deployed to the pilot schools.
Statewide implementation of Hi-Tech school project
The State wide launch of the programme was inaugurated by Hon.Chief Minister on 22 January 2018 at Thiruvananthapuram.
As part of the scheme, KITE has deployed the following ICT equipments to schools, till date.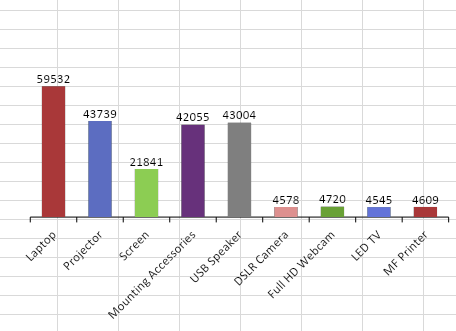 Capacity Building for Teachers and Students
In order to supplement the ICT hardware deployment in schools, KITE has imparted ICT based trainings to 77,194 teachers from High School, Higher Secondary, Vocational Higher Secondary and Upper Primary sections. In addition to this, as many as 52,150 students from 1990 High Schools, who are members of Little KITEs Clubs, were also trained in various domains such as Animation, Electronics, Hardware, Cyber Safety, Malayalam Computing, Web TV, Development of Mobile Apps, Programming, Robotics, E-Commerce, E-Governance, Video Documentation etc.
Content Development- SAMAGRA
KITE has developed SAMAGRA Resource Portal which functions as a repository of educational contents for students from class 1 to 12. Samagra features e-Resources, Textbooks and Question Banks in the form of images, videos, animations, interactive narrations and tutorials. Till date Samagra has over 42,000 digital resources, in four mediums of instruction- Malayalam, English, Tamil and Kannada. Specific content development workshops are conducted at various levels at regular intervals. www.samagra.kite.kerala.gov.in
Broadband connectivity to schools
As part of Hi-Tech school project, KITE has also provided high speed broadband connectivity to 4751 HS/HSS/VHSE schools in the State, with the exception of Tholpetty Govt High School in Wayanad District, due to extreme geographical constraints. KITE is in the process of making alternate arrangements for internet connectivity in this school.
eWaste Management from schools
KITE had tied up with Clean Kerala Company of Govt of Kerala dispose over 1 Cr kilograms of e-Waste from over 10,000 schools and educational offices in Kerala. It has been reported that the eWaste which has been accumulated since the past two decades, eats-up huge space of IT labs, besides obstructing the lab activities in a large way. As on date over 741 Tonnes of eWaste has been disposed from 14 districts. Equipments such as Desktop Computers, CRT Monitors, Laptops, Desktop Cabinets, Drives, Printers, Projectors, UPS, Camera, Speaker System, Television, Network Components, Generators etc are being included in the eWaste category.
Free Software benefits
KITE has been an ambassador for Free & Open Source Software for decades, as it gives the freedom to create, edit and share educational contents without any restrictions. KITE has developed its own Operating System- IT@School Ubuntu, which is loaded with several educational applications. It is estimated that as much as Rs.900 Cr would be saved this year with use of Free Software Operating System and Applications which are loaded in the Laptops which are distributed to schools as part of Hi-Tech school programme.
Monitoring and Support Systems
Effective monitoring and support systems which are essential for ICT enabled education has been implemented by KITE. The SAMPOORNA school management software is the ideal example which captures every minute detail of students in all schools. This year Govt had made it compulsory for all schools in the State to upload the details of all students in Sampoorna. Additional details such as Teacher's data, administrative details, infrastructure details, attendance etc would be added into Sampoorna.www.sampoorna.kite.kerala.gov.in